Event Sponsors
Please Thank the following Companies who have made direct contributions to success of the boler 50th Anniversary event
Fromagerie Bothwell Cheese
Sponsoring the Wine & Cheese Social. Fromagerie Bothwell Cheese, located at the foot of the iconic Provencher Bridge in St-Boniface, will be Bothwell's first stand alone retail location and is a revolutionary new concept set out to create a truly unique and authentic made-in-Manitoba shopping and culinary experience by fusing ingredients, cultures, and traditions inspired by the great Province of Manitoba.
Fromagerie Bothwell Cheese
Camping Treasures
Camping Treasures takes great pride in engineer special High Quality Trailer Parts & Accessories to keep your Vintage Trailer working & looking great. Our exclusive jewellery includes replicas of popular vintage trailers, Boler, Scamp, Trillium, Outback, Escape ETI, and Shasta Come visit our online store
Camping Treasures
Shady Boy Awning
Shady Boy Awnings has generously provided several complete awnings w/ brackets that we will give away at the event. This is the awning I personally use and highly recommend, it sets up in minutes, provides a 6'x10' covered area and only weighs 14 lbs.
Shady Boy Awning

Escape Trailer Indistries
Escape Trailer Industries has generously offered to provide a selection of prizes for the event. There will be a number of Escape trailer owners who will be happy to show off these beautiful trailers
Escape Trailer Industries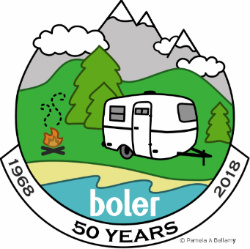 Manitoba RV Show and Sale
Thank You to the 2018 Manitoba RV Show for their sponsorship of the boler 50th Anniversary Event. We appreciate your focus on the camping lifestyle and how Winnipeg has made a significant contribution, there are currently over 14 moulded fibreglass trailer manufacturers in Canada & the USA building trailers based on the original boler
Manitoba RV Show and Sale
New Trailer Showcase
 The latest and greatest in new molded fibreglass trailers will be on display the Boler 50th Anniversary event
Armadillo Trailer
We are excited to welcome Armadillo Trailer to the boler 50th Anniversary event. More exciting news about Armadillo and the 50th Anniversary will be announced soon
Armadillo Trailer
Happier Camper
We are thrilled to welcome Happier Camper who will be bringing their HC1 for everyone to view
Happier Camper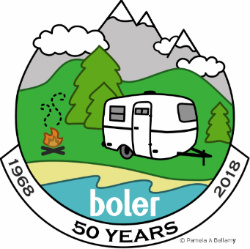 Event Exhibitors
 Visit he following Companies who will have booths & exhibits at the Boler 50th Anniversary event
Bee-2-Gether Covers
Chad & Kim at Bee-2-Gether make these custom covers specifically to fit your boler or any trailer when supplied accurate measurements. As a special offer to registered participants receive 15% off when you pre-order or 10% off at the event. To receive your discount include your ticket order number located at the top of your receipt. All covers to be picked up at the event. Contact Chad directly for more information and to pre-order
Bee-2-Gether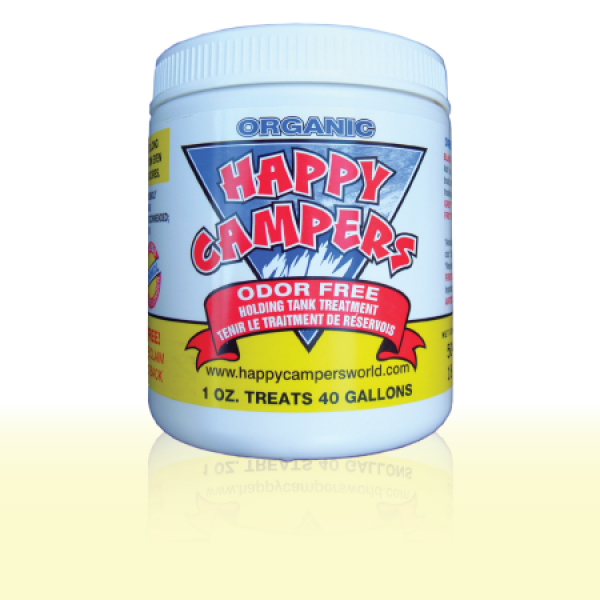 Happy Campers
Happy Campers Odorfree Holding Tank Treatment is a natural formula that is environmentally friendly and biodegradable, with no formaldehyde. It is safe, clean, easy to use and not chemically sensitive. Happy Campers Treatment liquifies waste . . . and household tissue is O.K.! And it is POWERFUL . . .
Happy Campers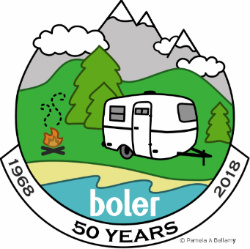 Participant Discounts
The following are offering participants in the Boler 50th Anniversary event discounts

KalTire
Kal Tire VIP Program Access which includes: - Over 250 locations across Canada - Discount pricing on tires, batteries, service & mechanical repairs - VIP Letter w/ Account #001V637300 (please make copy and bring with you)
Discount

Sterling Truck & Trailer Sales
Sterling Trailer Sales, is offering a 20% discount off parts Serving the Medicine Hat area, located at 3kms East of Medicine Hat on HWY 1 in Dunmore , AB Phone 403-526-0187 / 855-340-0187
Discount
Join the excitement, become a Sponsor
Are you interested in partnering or sponsoring an event or activity for this historic event?
We have sponsorship opportunities including snacks, meals, facilities, music, entertainment .... the sky is the limit
The media exposure for this event will be extensive including:
National Media coverage
Live exposure to all participants & spectators
much, much more ...
If you are interested in helping sponsor our event please contact Ian at   1974Boler [at] gmail.com